I turn 29 in less than two weeks which means that I'm one year and 12 days closer to 30 *melts down internally*. By the time my mum was this age she was married, a property owner and I was 2 years old. OKAY.
As this stark reality sets in, I'm going to ignore all of societies expectations and restraints and think about presents because what else are birthday's for? Here are some of the things that I'm hoping will make the journey to real life adulthood (your 20's don't count) plain sailing…
Photography Lighting Kit and Ring Light
I'm not always able to film for my Youtube channel during the day. I'm hoping to turn one corner of my new apartment into a mini home studio with this very basic lighting kit and a ring light for my Canon EOS 100D.
NEW Macbook from Apple
My current Macbook is 5 years old and I've noticed that it's a little too slow now that I'm using it for more than blogging and watching Netflix. The new macbook from Apple is GOLD. It's gold and lightweight and I simply must have it.
Calvin Klein Duo
If, like me, you're not into fussy underwear and prioritise comfort over everything else then this duo set from CK is EVERYTHING. I've had my eye on this set for the longest while. This is one 90's trend that I'm happy to see come back. Wear the crop-top as is if you're braver than I, or under a T's or tank for the days when a bra seems like torture. I like the fact that there are variations on the bottoms but I'm done wearing thongs and the boyfriend shorts remind me of being 16 years old and thinking it was super cute to rock boy's undies. Lemme just the the regular knick-knacks and done. You can cop these at ASOS.
Moleskine Diary
The older I get, the more forgetful I seem to be. It's not a cliche, it's skraight fax. I love this Moleskine week-per-page diary with another side for notes. In a way, it reminds me of my homework diary from school. I'm into it. Check out the variety of diaries that Moleskine has to offer here.
Personalized Ring
I've always been more of a ring person and now that I'm in a position to be able to rebuild my jewellery collection, I'd love to get something personalised like this awesome nameplate ring. The Personalised Boutique offers tons of different options for rings – initial, full name, two-finger, diamonds – and any other form of adornment that one can imagine. The prices aren't too bad either.
10k Curb Chain
I haven't worn a chain since I was a child, probably. But my friend and old flatmate, Zaza, just did a soft launch for her jewellery brand, Four Ones, and I need a chain to go with one of her pretty pendants.
Balenciaga Buckle Boots
THESE BOOTS. At first, I was so unsure about these but now, the veil has been lifted and I'm ready for the life receival that will ensue once I finally get my hands on these bad boys. Now, let me be real wit it for a minute. These boots are not cheap. In fact, they cost mad bank but we can all dream, right? With a bit of saving and a few less veggie pitta's from Nando's, all things are possible…………………………………………right?
Calvin Klein "Bea" Cross Body Bag
I first saw this cute Calvin Klein, structured cross-body bag while lost in the Depop vortex. All of my bags are huge and the Celine trio is ridic money so I'm after something that's smaller, will hold my wallet and possibly a Game of Thrones novel……and some pens. You can also find this dreamy bag on ASOS. For a classic mid-high end brand, the price is really good. Hoping to get my hands on this ASAP.
A Dance With Dragons: After The Feast
The new season of GOT starts on April 12 which leaves me 24 days to finish the last book in the series. Apparently the new book won't be out until 2016. WTH am I going to do once I've finished this one!?
Final Cut Pro
I'm struggling with iMovie when it comes to editing my videos. Final Cut Pro seems like the way to go when it comes to video editing. It's not cheap (£229) but I think it's important to invest in the best quality tools when it comes to these things. You can cop this from the app store.
Lader watch from Larsson & Jennings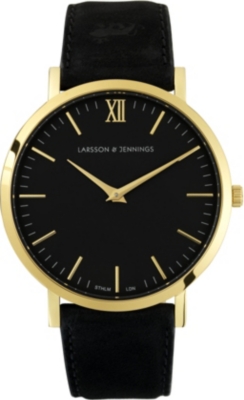 I am, by no means, a nerd when it comes to time pieces. I have an awesome Military Watch Company watch that I use for every day but the nato strap is a little on the casual side. I've had my beady eye on this Larsson & Jennings for a while but never knew which to pick. I love the classic black and gold colour way on this and at £215, the price is really reasonable for such an investment – especially seeing as it's gold plated. You can buy Larsson & Jennings at, Selfridges, Liberty and at the L & J store on Monmouth St in London.
Double Back Earrings from The Haute Pursuit Co
These are really lovely. I've been following Vanessa Hong ever since I saw that picture of her wearing the basketball jersey, cut out jeans and strappy shoes (WERK HUNNAAAYYY!). I love her take on fashion and her minimal instagram is perfect. Vanessa has a webstore under the same moniker where you can find all of her dreamy creations. These Doubleback earrings are pretty, versatile and come in a bunch of other colourways. I love dem!
Marble iPhone Cover
Why do my phone covers always end up breaking or just looking like garbage?! UGH. This one is really cute. Thoroughly enjoying the marble look. You can grab this from Zazzle.com.
Diptyque Figuier Scented Candle 
I have two perfumes from Diptyque – Philosykos and Do Son. This scented candle is Philosykos in candle form and I want to smell it ALL THE TIME. Available from the Diptyque store and Liberty, it's on the pricey side (£40 for 190g) but I hate cheap smelling candles and I love this brand so it's totally worth it.
Bold Metals Collection from Real Techniques
I bought a Beauty Blender and Silicone liner brush from Real Techniques and I really love them both. This cute collection of duo fibre, synthetic make up brushes look great and I've seen great reviews online. You can buy the whole set from Boots. They may seem expensive but regular brushes from MAC cost just as much and certainly don't look as cool! Secret – a makeup artist from a MAC location that i shall not reveal suggested I try these duo fibre brushes as they're just as good. Can't wait to get my grubby mitts on these.
And there you have it! My birthday wishlist. When is your birthday and what are you wishing for?